Wildland Division responds to Mesquite, NV to assist in Wildfire
On Saturday Evening, May 14, 2016 the Wildland Division of the Beaver Dam/Littlefield Fire District responded to assist Mesquite Fire Department in a wind whipped wildland Fire that was threatening an elementary school and homes.
Congressman Gosar visits Beaver Dam & Scenic
On Saturday Morning Congressman Paul Gosar, Trevor Pearson (Senior Legislative Assist) and Penny Pew (District Director & Intergovernmental Affairs) paid a visit to our neck of the woods.  Before arriving they visited the Scenic Area and met some of the residents at the Scenic General Store, they then proceeded to Beaver Dam where they met with a couple of the Departments Board Members, the Fire Chief, a fire fighter and a couple of visitors from out of the country.
The conversation ranged  from the area that we as a fire district covers, type of services that we offer, the number of stations.  The conversation also covered that we have to transport to hospitals out of state, the use of helicopters for trauma, stroke and other major medical problems to other medical facilities.  Wildland Fire responses became a main topic and the knowledge that the Congressman Gosar and his troupe knew of wildfires and the difficulty in handling them.  Grants also became a topic with promise of any type of assistance they could offer, even giving a letter of recommendation when we apply for Grants.
Back Row left to right Congressman Gosar, Board Chairman Reber, Fire Chief Hunt, FF/AEMT Lydon, Board Clerk Adriance; Front row are our two visitors from another country
_ _ _ _ _ _ _ _
On Friday, April 4, 2016 in the late morning hours the Beaver Dam/Littlefield Fire District responded to a possible fire in a travel trailer with the caller stating that the fire had been put out except for hot spots.  The caller also reported that one person had burns.  Upon arrival the medical team called for Mercy Air to be launched.  The victim had significant burns on her arm and legs.  Thanks to Mercy Air and even in some inclement weather they were able to safely transport the victim to the burn center in Las Vegas.
The Beaver Dam/Littlefield Fire District does use one of two helicopters (both from out-of-state) to transport trauma, suspected stroke and other major medical problems via air.  This is because of the remoteness of the area we serve.
_ _ _ _ _ _ _ _ _ _ _ _ _ _ _
On Thursday, March 24, 2016 in the evening hours the Beaver Dam/Littlefield Fire District was dispatched to
Mesquite, NV to aid Mesquite Fire on a structure fire.  The District responded with 1 Engine and 1 Ambulance.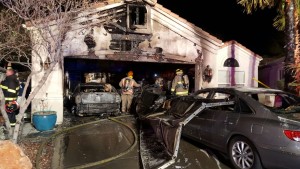 UNAUTHORIZED BURNING SHUTS DOWN I-15
On March 1, 2016 a person started an unauthorized agricultural burn which got out of control.  The fire did jump the freeway which caused the freeway to shut down for up to 4 hours.
For more information, video and pictures please click here:  http://www.stgeorgeutah.com/news/archive/2016/03/01/kss-agricultural-burn-jumps-i-15-spreads-out-of-